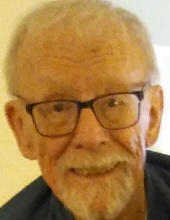 Obituary for Alfred John Aughton
Early Monday morning, August 27th the shining star of our family passed on. My father Al Aughton passed in his sleep at home after many recent bouts of bronchitis and pneumonia.

Many of us at times ask ourselves, what is a successful life?

My dad was a devoted son and brother, a loving husband , a great Dad and an incredible grandfather.
Like many men in the Aughton family, he was a great story teller. Many of his conversations began with.... that reminds me of, or let me tell you about the time........

As a young adult I would go to work with my Dad, and as I met the people he worked with they would tell me details of the recent events of my life. As an adolescent you think, really Dad! But as my sisters and I became parents and those stories transferred to our children we found it heart warming.

The one thing you knew about my Dad, whether you knew him well, or just met him at the mailbox, he thought the world of his four grandchildren and two great-grandchildren. . He was amazed by them and proud of everything they did.

He loved the automotive industry and worked in many facets of it. His last job and favorite before retirement was as a Regional Sales Manager for Midas. He loved that job and was greatly honored as a loyal and very devoted team member at his retirement.

As my sister and I have been sorting through the things he kept, which seemed to be everything, one thing is clear, it was all about family for him.
He would have been 87 on Saturday, September 8th, and he was so looking forward to the family dinner we had planned. The dinner shall go on.

My Dad he was the steady and constant lead of our tribe.

That's a successful life!

Mr. Aughton was survived by his loving wife Lucille "Fran" for 64 years, Children; Cynthia (Gary) Kochensparger, Deborah (Vic) Puidokas and Rebecca Aughton, Grandchildren; William (Tanya) Spearnan, Eric (Nicolle) Spearman, Amanda Solon and Riley Aughton and great-grandchildren; Jayce and Isaac Spearman, and a brother; James Albert (Marlene) Aughton.

The services for Mr. Aughton will be held at Great Lakes National Cemetery in Holly Michigan on Wednesday September 12th at 1pm. Please arrive at 12:45 for the service. Luncheon to follow at Villager's Family Restaurant in Holly.
Cemetery Details
Location
Great Lakes National Cemetery
4200 Belford Road
Holly, MI 48442