Obituary for Charles Curtis Hollen
Charles Curtis "Chuck" Hollen
November 30, 1939 – May 3, 2019

Above all, Chuck loved Anita, cars, music, learning, and being with his family. We all agreed that the best memorial for him would be to talk about who and what he loved most.
Chuck was born in Battle Creek, Michigan in 1939. The family moved to Iowa and that's where he grew up. As a kid he loved comics and jokes. He spent hours reading our neighbor's huge collection of Archie, Superman, Batman, and Green Lantern comics on his porch. He fell in love with Mad Magazine and Alfred E Neumann and couldn't wait to laugh about the funniest cartoon in each new issue. He loved the freedom of riding his bike around the neighborhood. He loved learning and was super smart. He would sometimes get into it and question the teachers. I remember that our math teacher Mrs. Volk would sometimes say "Charles Hollen you irk a person to the nth degree!" That became a family joke.

Chuck had a paper route by the time he was nine years old, and mowed lawns. He was always a hard worker. He couldn't wait to get a car and started saving up his money early. In those days you could get a permit at 14, so at that point he was on the road. Of course at first he was driving a family car. He was embarrassed by that because it was the 49 De Soto and he thought it looked like an upside down bathtub on wheels. Soon, after he turned 16 he bought a 50 Olds of his own. He loved music almost as much as he loved cars. He played trumpet in the marching band all through high school. He also played in a dance band, called the Rhythmaires. They really had a good sound—like a 40's swing band. They used to play for the dances at our church on the weekend.

After high school Chuck went to California to work in the Van Nuys GM Assembly Plant where my uncle worked. At the end of the summer he had one of his best car adventures of all. He bought a 38 Packard which had been in a wreck with a semi. Those were tough old cars with a lot of steel. The only effect of the collision was some wrinkles in the fenders on the very front. Chuck cut those wrinkles off with a welding torch and drove the car back from California. Then his ingenuity kicked in. He found two Packard front fenders, the kind with wheel wells, for $6 each at a junkyard. He painted them exactly to match the car. When he put them on, He transformed that wreck into a classic car for $12 and the price of some body paint.

Chuck started college at Iowa State that fall. He just didn't feel like he fit there and didn't like it. He left by Christmas and went to work. The next year, I was starting to apply to colleges. When I decided to go to Michigan State he decided that's where he wanted to go too. He got his undergraduate degree in statistical psychology and communications. Then, when I was applying to graduate schools and decided to go to Harvard, he decided to go too. He got his Masters Degree in communications at Harvard, and then went back to Michigan State to get his Ph.D.

Then Chuck entered the workforce in advertising and I'll bet you can guess what he wanted to advertise—cars!! He worked for J. Walter Thompson and other large ad agencies on Ford, Chevy, and Chrysler accounts for many years. He kept his music going by singing with the Detroit Lutheran singers. While he was in the Detroit area one of the greatest joys of his life was to get together and work on cars with John. He ended up getting his dream car, a classic Mustang. And he and John actually became race car drivers together but I will let John tell you about that.

Chuck also got married and divorced while he was working in the advertising industry, but he had not yet met the love of his life until he met Anita. They got together in the early 90s and got married on Valentine's Day 1996. He was the happiest I ever saw him in his marriage with Anita and in their life together.

In his late 50's Chuck decided to transform his psychology degree and use it to help people instead of for advertising. He had struggled with depression himself and he wanted to help others. He went back to school for a degree in clinical psychology. He thought about starting his own practice but decided he wanted a regular job with benefits and retirement. Everyone told him that since he was almost 60 he would never succeed in getting that kind of work, but he did.

Chuck got a job with the Caro Center—one of the three mental health institutions left in the state of Michigan. He worked there for 11 years, helping many people who had severe mental illness.

Chuck and Anita had a wonderful life in Caro. They enjoyed going to the United Methodist Church, and had good friends there. They also loved going to Interlochen for the music festivals, and going on Elder Hostel trips, including to the Grand Canyon. Chuck joined a singing group and kept up his music. He especially loved being with Anita in their home with all of its beautiful outdoor space.

A few years after Chuck retired, Chuck and Anita said goodbye to Caro. This wasn't an easy thing to do, but when they found their beautiful condo in Southfield, it turned out to be just the right thing.

The main stress at that time was Chuck's illness. I'm sure everyone knows how challenging Alzheimer's disease can be. After he could no longer be cared for at home, Anita visited him faithfully. This past Christmas, John, David and I were fortunate to spend part of the holiday visiting with him. He passed away peacefully in his sleep last month. We will miss him.

Private cremation has taken place. The family will receive friends Saturday, June 15, from 1:00 PM until the 2:30 PM memorial service at Sawyer-Fuller Funeral Home, 2125 Twelve Mile Rd., (Between Coolidge Rd. and Woodward Ave.) Berkley.
To send flowers or a remembrance gift to the family of Charles Curtis Hollen, please visit our Tribute Store.
Upcoming Events
Visitation
Sawyer-Fuller Funeral Home & Cremation Services
2125 Twelve Mile Road
Berkley, MI 48072
Service
Sawyer-Fuller Funeral Home & Cremation Services
2125 Twelve Mile Road
Berkley, MI 48072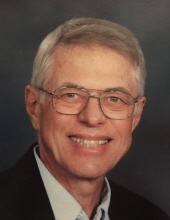 Thank you for sharing your
memory of Charles
Provide comfort by sending fresh
flowers from our local florist.
No thanks, please don't show me this again.