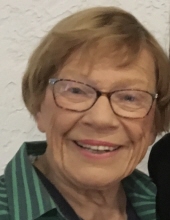 Obituary for Dorothy Louise Wright
Dorothy Louise Wright, age 89, died peacefully October 23, 2018 after a sudden illness. Dorothy was born on August 8, 1929 in Detroit, Michigan, the only daughter of devout Baptist, Dorothy Attaway and hardworking, no-nonsense William Attaway.

When her mother took ill while Dorothy was a young girl, she took on the role of caregiver, often running home from school at lunch time to attend to her mother's needs, in addition to taking care of the house and chores. After her mother's passing, Dorothy's father remarried, and Dorothy gained a new mother, Nel Attaway and three sisters in quick succession, Martha, Christine, and Lucy.

Dorothy was ecstatic to attend Central Michigan University (Fire Up, Chips!), where she loved to walk on campus in the fall and kick the autumn leaves. She met her future husband, Robert "Skip" Wright, beginning their mutual life of service to others. Their marriage brought three delightful daughters, Linda, Cindy and Sue.

Their modest Stuart Street house was her home for over 30 years. Dorothy fostered a fun neighborhood atmosphere and was always willing to host an event or make arrangements for a block party. Her competitive nature was evident when she cheered the neighborhood co-ed baseball teams to victory. Eggs, a cup of flour, and glass of milk where often shared willingly with neighbors. The Detroit area is where Dorothy lived her whole life: Redford Township, Southfield, and finally Lathrup Village. She always had a pot of coffee on the stove and treats ready for visitors.

Along with her successful teaching career at Southfield Public Schools and raising a busy family, Dorothy enjoyed many hobbies. Following sports was a life-long passion especially the Detroit Tigers. It was not uncommon for Dorothy to watch several sporting events concurrently.

To Dorothy, gardening was not a hobby, rather a passion, resulting in utter natural beauty. Dorothy's garden was her work of art, as many in the neighborhood can attest.

Throughout her life, Dorothy was true to her principles. Never short on energy and focus, she volunteered her time to register voters for the upcoming election in November where she was determined to do her part to turn the house and the senate majority Democrat. An honest, hard-working, dependable and practical woman, Dorothy had no tolerance for the current state of affairs in politics.

Dorothy specifically requested that her gratitude be expressed through her obituary:

First, thank you to the teachers who inspired her to be naturally curious and appreciate learning, to her fellow teachers who shared mutual support and comradery, to all the neighborhood ball players, to the Stuart Street Gang, and the Simms kids for your "all in" attitude creating a wonderful environment to play, grow up, and raise a family, to all who are investing in the regeneration of Detroit especially Belle Isle, to all those remarkable friends and all the good times, and a special thank you to Alan, for his undying support and friendship.

Additionally, Dorothy wishes to thank the gifted, hardworking Detroit athletes for all their efforts. She was especially pleased when they achieved greatness. Special thank you to the '68, '84 Tigers and the '89, '90, and '04 "bad boy" Pistons. Dorothy thanks the farmers markets, the helpers, and the dedicated gardeners that assisted her especially in recent years.

To her five grandchildren, Jake, Corrine, Kyle, Peter, and Erik, Dorothy was forever proud. Thank you for togetherness, parties, fun, vacations, and gifts.

A memorial service will be held on Sunday, October 28th at Patrick J's Irish Pub, 3052 12 Mile Road in Berkley family greeting at 12:30PM, Celebration of Life at 1:00PM.

In lieu of flowers, donations may be made in her memory to Leader Dogs for the Blind, Seedlings Braille Books for Children, or Forgotten Harvest.

Dorothy would want her legacy honored by having all that knew and loved her, vote in the upcoming election.
Previous Events
Service
Patrick J's Irish Pub
3052 12 Mile Road
Berkley, MI 48072
Family greeting from 12:30 PM until the time of service.
Memorial Contribution
Forgotten Harvest
Attn: Donor Systems
21800 Greenfield Road
Oak Park, MI 48237
Leader Dogs For The Blind
1039 South Rochester Road
Rochester Hills, MI 48307-3115
Seedlings Braille Books for Children
P.O. Box 51924
Livonia, MI 48151-5924